Evergreen Teachers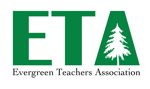 Association
Engaging Students, Involving Families, & Empowering Teachers since 1963


Board Speech 4-13-17
Good Evening Trustees, Colleagues, and Community Members!
Forgive the slight digression, but being a full-time union president rarely gives me any opportunities to explore teachable moments. I want to briefly examine the difference in your response between agenda items and those topics brought before you for the first time.

The ETA Scholarship Program is not on the agenda, therefore no action can be taken by the board and, while you always listen politely, you aren't even required to respond. This year's Donation Drive raised more than $6500, a new record! The District Office total, which includes Trustees and myself, was a very respectable $455 and good for third place in our contest. The winning school was Millbrook with an impressive $716, and I delivered three dozen assorted bundtinis in time for their recess break this morning.

There is no such thing as the Presidents Award, but if there was, it would go to the PEER Foundation for housing collected donations because the IRS says a union can't have this kind of money on the books no matter how good the cause. Stacey Johnston actually reached out to me more than two months ago to see if I was ready to begin this year's drive. She then offered to set up a PayPal option so participants could go online and use their credit card to give. I gladly accepted and to date more than $2500 of the total raised has come through this method. I've become accustomed to saying, "It's so easy to give, you won't even feel it!"

An example of an agendized item is the new Collective Bargaining Agreement between ETA and ESD. Rather than discuss it now during Public Comments, I'll wait until we reach that point in the meeting, which increases the likelihood of interaction with Trustees and usually ends with some kind of action. Needless to say, I am expecting your approval. BTW, don't forget to fill out a comment card and indicate the agenda items you wish to address.

I believe there are people here this evening wishing to share concerns with you regarding LeyVa. Again, it is nowhere on the agenda so they'll be speaking during the current portion of tonight's meeting. To the extent personnel issues are discussed, particularly dealing with next year's plan created by the district management team, I believe it is the purview of neither Trustees nor the union I represent.

However, I am concerned LeyVa is currently missing a full-time assistant principal. I was, frankly, shocked when teachers informed me the sixth grade orientation visit had been canceled because there was no one to organize it. When we're struggling with declining enrollment, and there are charter schools in the area competing for students and using, what I consider to be, underhanded advertising tactics, you can't show weakness. We need to get these kids on campus, so they can ignore the misinformation being spread and realize it's truly an amazing school! I have already met with Superintendent Gomez, and she has assured me she will address the issue very soon.

Finally, there's the agenda item dealing with the Facilities Advisory Committee. There are two logistical issues I'd like to mention now. First of all, I believe it would be in everyone's best interest to move item number 5.6 foward in the agenda. My sense is most of the people behind me are here to speak to you regarding the recommendations contained in the FAC report.

Speaking of which, I would hope everyone who speaks to the issue, be they Trustee or community member, focuses on the merits of the document not the people who created it. The members of the FAC are dedicated volunteers who willingly gave 2 hours of their time every other week for almost a year. They represent a valuable resource we need to protect for the future. In other words, speak for your school and why it shouldn't be closed, rather than against the people who were tasked with creating the report.

Thank you!

Brian Wheatley, ETA President


Dates To Remember
Rep Council/Retirement Celebration - June (Mexico Lindo @ 3:45 PM)
School Board - June 8 (BR @ 6:30 PM)

Downloads
Retiree 17-18 Out of Pocket Celebration
SCCOE