Evergreen Teachers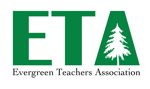 Association
Engaging Students, Involving Families, & Empowering Teachers since 1963


Board Speech 6-13-17
Good Evening Trustees, Colleagues, and Community Members,

I'll begin my comments tonight with a thank you to Superintendent Kathy Gomez for finding someone to chair the BAC in my place last Thursday so I could attend San Jose Unified school District's charter petition vote. Thankfully, they voted no on the Promise Academy due to its unsound educational program. I encourage you to revisit EESD board policy before a charter petition comes before you. Additionally, SJUSD did a very informative Safe Schools presentation, which was designed to share how they were implementing the resolution to protect families in the community.

Next, I want to briefly touch on a reminder, a concern, a success, and an opportunity as we close out the school year.

A Reminder - Many of the class size issues we experienced this year, particularly at Title I schools, were exacerbated by the decision to freeze hiring last summer. While declining enrollment is scary for everyone, actions taken in response to fear are never what's best for kids.

A Concern - I continue to worry we are lagging behind other districts in our ability to attract and retain special education teachers. For instance, I commend HR Director Carole Schmitt on her efforts to help a regular ed teacher finish the needed credentialing to become a resource specialist and fill a position left open due to a retirement. Unfortunately, she decided to go work for another district. As I've mentioned in previous meetings, I am ready, willing and able to discuss an MOU to avoid major gaps in services due to staffing issues like we've had the past few years.

A Success - I'm pleased to announce we signed off on our Catastrophic Leave Bank Memo of Understanding (MOU) on Monday. Huge props go to Carole for being flexible about times we could meet, and candid about the needs of the district. I'm gratified we were able to work together collaboratively to provide this benefit for certificated employees.

Finally, an opportunity - If managed correctly, our twenty-one retirees could become Evergreen's very own sub pool. Since there are no uniform sub pay requirements, the district could offer these people an increased daily rate, say $200, to work exclusively for us. Alum Rock has already instituted such a system. I believe they pay they retired teachers $240 a day.

Of course they have to wait six months, but I guarantee you quite a few of them would be interested and it would solve many of our current problems around needing to do professional development. One example is if a school decides to undergoing SEAL training, as Montgomery was considering for next year. Danielle tells me it would mean 12 days out of the classroom.

As always, I'm available to meet with you to discuss any of these issues in more detail as we wrap up 2016-17.

Thank you!
Brian Wheatley, ETA President


Dates To Remember
School Board - Aug. 17 (BR @ 6:30 PM)
Retreat
Downloads Current Contract
Retiree 17-18 Out of Pocket
SCCOE Transfer Grievance