Evergreen Teachers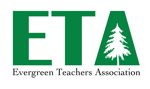 Association
Engaging Students, Involving Families, & Empowering Teachers since 1963

Kids Not Profits
English
Español
Impasse Chart
Impasse Explanation
ESD Budget Update
Self-Insured Schools of California
SISC Full Presentation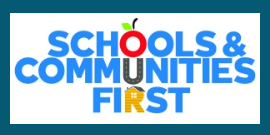 ETA endorsed initiatve designed to fix Prop. 13 unintended consequencs
It will bring desperated needed money back to public schools
A big thank you to the PEER Foundation for housing ETA scholarship donations.
The online donation site above will accept a
check
,
credit card
, or
PayPal
Account!
Donation Form

Suzanne Lima
Jeff Beckley
Lisa Untrauer
Students are at the center of everything we do. As ETA members, we are deeply committed to the success of every student focusing our energies in three areas - student success, opportunity, and quality.
A good education inspires students' natural curiosity and builds their desire to learn, the key to student success. ETA members work tirelessly to ensure all our students have the public education they deserve. The California Teachers Association (CTA) works for the initiatives described in our
Public Education Our Students Deserve
document. It is a research-based document that outlines proven education strategies that improve and enhance student learning, are essential to providing a quality public education to all of California's 9 million students, build stronger local communities, and help maintain public education as the cornerstone of our democratic society. This document is based on education research and input from thousands of educators and community members. I have a copy of this important publication for each Trustee, and more available for interested audience members.
Opportunity means all students, regardless of zip code, deserve the support, tools, and time to learn. ETA recognizes the importance of smaller class sizes, especially in grades TK – 3, so students receive the individual attention they deserve. Additional staffing, such as aides in grades TK-K and art classes in grades 4-6, enriches the classroom experience for every child.
Students achieve when caring, committed, and qualified educators are empowered to teach. Great teachers are attracted to and stay in districts where they are appreciated, and supported. ETA works to ensure we have quality health care for ourselves and our families. We successfully negotiated our Catastrophic Leave Bank (CLB) giving members the peace of mind to focus on the needs of their students. ETA also believes in long term retirement security through our Trust.
Finally, ETA works to ensures members are empowered to participate in decision-making both the site and district level. Too often, we've seen elected officials and others in positions of power make decisions which directly affect students with no real understanding of what happens in our classrooms. Whether advocating to re-institute funding for the induction program to assist new teachers, or for more professional development support, ETA members should be consulted and involved at every level because students are the center of everything we do.
Brian Wheatley, ETA President


Dates To Remember
Rep. Council - Apr. 17 (Mt. Ham @ 3:45 PM)

Downloads
Current Contract
Negotiations Update 2/12/18
Kinder TA

18-19 OOP
Jan Feb

ETA Catastropic Leave Bank
Dealing with Issues