Evergreen Teachers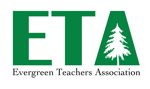 Association
Engaging Students, Involving Families, & Empowering Teachers since 1963

Join the fight for increased public education funding and
charter school accountability May 15 and/or May 22
Become a Rapid Responder!
Funds raised will support the
Spartan East Side Promise
GOVERNOR SIGNS HISTORIC LAW (SB126) TO ENSURE CHARTER SCHOOL ACCOUNTABILITY AND TRANSPARENCY
Charter schools, including those run by private management companies, must follow all open meetings laws, provide open records to parents and voters. The new law also prevents charter operators and their family from profiting off charter school contracts, but it's only the beginning ...
AB 1505
by Assemblymember O'Donnell ensures all matters related to charter schools' authorization, renewal and other key decisions are made by the local school governing board—those who actually know and manage the school district.
AB 1506
by Assemblymember Kevin McCarty establishes a cap on the growth of charter schools. The current, unchecked and unregulated growth has led to destabilizing school districts and the proliferation of privately-managed charters.
AB 1507
by Assemblymember Christy Smith closes a loophole in current law which allows a charter school to operate outside of its authorizing school district.
AB 1508
by Assemblymember Rob Bonta would allow authorizers to consider fiscal impact, academic achievement and facility impacts when considering the authorization of new charter school petitions. More information on these bills is available
here
.
Summary
California Educators and Students Fighting for Quality Public Education for All
Please Sign This Petition
Brian Wheatley, ETA President


Dates To Remember0
Rep Council - April 16 (EV Library @ 3:45 PM
EBoard - May 7
CA Day of the Teacher - May 8

Calendar Recommendation Vote
2019-20
2020-21


EBoard Elections & NEA Representative Assembly
CTA Elections Manual

Downloads
ETA Contract

ETA Catastropic Leave Bank Language
Dealing with Issues