Evergreen Teachers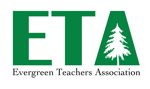 Association
Engaging Students, Involving Families, & Empowering Teachers since 1963

A big thank you to the PEER Foundation for collaborating with ETA to house scholarship donations.
In addition, they've set up an online donation site which will accept a check, credit card, or PayPal Account. Click below!
The District and Evergreen Teachers Association will jointly present a screening of East of Salinas,
Thursday, March 30 at 6:00 p.m. in the LeyVa library.
It will be followed by a presentation from Services, Immigrant Rights & Education Network (SIREN).
In honor of our first observance of César Chávez Day,
please join us for a special screening of this important film
and a discussion of the rights and resources available to immigrant families.
English
Spanish
Vietnamese
Board Comments 2-9-17
Good Evening Trustees, Colleagues, and Community Members,

Let me begin by welcoming Balaji. It is such a blessing and a relief to have Trustee Venkatraman back on our school board. He is a person of intelligence and integrity who will continue to dedicate himself to the Evergreen Community and its children.

As I mentioned last night, there is much to do and Balaji's experience will be invaluable going forward. Speaking of which, we just completed two intense days of negotiations for the current school year using the Interest Based Bargaining approach. It's a very arduous process, but has the potential for rebuilding a positive relationship between the school district and the teachers union.

ETA has committed to trying to make it work. I do worry once we get down to the money items because it sometimes feel like the bottom line is the one and only driving force behind management's decision-making. We share the district's interest in remaining fiscally sound, but constantly focusing those multiyear dire projections has led to some questionable decisions in the past.

For example, last month you were discussing enrollment in general, and specifically combination classes. My main goal in providing you with the chart that was referenced several times during the meeting was to emphasize my concern over the district's decision to freeze hiring in the summer. That knee-jerk reaction based on fear essentially took the power away from board members who otherwise could have decided to do what's best for kids, keep class size lower at several Title I kindergartens, and maybe even have one or two fewer combos. As an aside, props go to Trustee Zito for continually requesting to have board meetings audiotaped as I was unable to attend in January and spent a blissful Saturday experiencing the event secondhand.

Tonight's agenda is very full, as is this room due in large part I believe to item number 6.3 - the Facility Advisory Committee Update. As a member of that committee, I know we have been tasked with making a recommendation to Trustees by April regarding the possible re-purposing of several sites. If one only looks at the bottom line, reducing the number of elementary schools by two becomes almost automatic. The hard facts are we lost approximately 600 students last year and 500 this year with the trend likely to continue. Economic logic says you can save money by having only thirteen schools.

But is there another point of view? Imagine for a moment ESD being publicly traded on the New York Stock Exchange. What would happen to the share price which is based on the perception of future growth and earnings, if the company suddenly downsized? Would our Consumer Confidence Index go up or down? Would we stabilize or continue in a downward trajectory?

Unless I'm greatly mistaken, many community members are waiting patiently to speak to you and ask you not to make these drastic moves. I encourage you to listen carefully. You might even hear some ideas about alternative solutions to make the Evergreen School District even better!
Thank you.

Brian Wheatley, ETA President



Dates To Remember

Negotiations - Apr. 5 (DO @ 9 AM) & Apr. 6 (Mt. Ham @ 9 AM)
Rep Council - Apr. 11 (Mt. Ham @ 3:45 PM)

Downloads Renewal