Evergreen Teachers Association


The Evergreen Teachers
Association is the exclusive representative of the certificated employees of the Evergreen
School District. We have over
600 members and are affiliated
with the California Teachers Association and the National Education Association.

As a union, it is our responsibility
to negotiate the working conditions and wages of our bargaining unit members, and to ensure that
contract obligations are fulfilled.

We are committed to providing ongoing support and training for
our members and encouraging
active participation in our organization.

As an organization, we are
dedicated to ensuring the best possible achievement for the
students of Evergreen School
District.

Evergreen TA
Mt Hamilton CTA
888 S. Capitol Avenue
San Jose, CA 95127
(408) 272-0601
(408) 272-7569 fax
Directions


Health Fair Flyer

Yes on Measure H

Common Core Web Resources - Common Core Parent Guide





Comments from Apr. 10 School Board Meeting

Good Evening Trustees, Colleagues, and Community Members,

Spring is a time of fresh starts and growth, and I wanted to give you an update on three areas where there is movement and progress.

Last month I shared about the ETA Scholarship, our wonderful program which gives former Evergreen students the opportunity to earn money for college. Our fundraising efforts have been quite successful, with a total of $3,495 so far. I want to thank Bonnie Mace, Vince Songcayawon, Balaji Venkatraman, Kathy Gomez, Kathy Shepard, Carole Schmitt, Gary Kishimoto, Denise Williams, Nellie Yang, and several principals who joined active and retired teachers throughout the district by giving to this worthy cause. You may have heard about the site competition ETA is sponsoring. With one day remaining, Millbrook leads in both categories - number of staff participating and total amount donated. Technically the deadline is tomorrow, but I did bring envelopes with me again tonight in case anyone decides to make a last minute contribution.

Work on the Local Control & Accountability Plan continues. The second community forum took place on March 17. You may remember I challenged my colleagues to see which school would send the most teachers to the two forums combined. Cedar Grove was victorious, and I delivered their prize - three dozen bundtinis - on April 3.

The same day, the team of Kathy Shepard, Denise Williams, Lisa Soares, and Iish Ryaru met to begin the arduous task of writing the first draft of the LCAP. The district leadership team came together on March 31 to read through, organize, and prioritize all the thoughtful input from community stakeholders and teachers. It's important to acknowledge the contribution of WestEd to this brand new budgetary process. This company is recognized by decision makers in Sacramento including the California Teachers Association as an expert in the field. I'd also like to commend Associate Superintendent Shepard for her work bringing everyone together and striving to give them authentic voice.

Finally, the effort continues to ensure the passage of Measure H - the district's parcel tax which essentially continues and builds on the groundwork establish by Measure T. The committee, CITIZENS FOR EXCELLENCE IN EVERGREEN SCHOOLS - YES ON H, meets weekly and is working diligently to bring the message of the importance of improving teacher training, maintaining small class sizes, protecting art & music programs, enhancing school safety, protecting school libraries, and preserving high-quality public schools in our neighborhoods. Thank you to School Board President Sylvia Alvarez and Trustee Jeff Fischer for joining us and adding their considerable experience and expertise to the campaign process.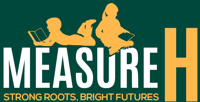 In conclusion, there are major changes and challenges ahead. Whether it's supporting students heading off to college, adjusting the district's priorities and budget, or seeking to continue a locally funded parcel tax, the key is working together to create common understanding and achieve mutually beneficial results. Spring is a time of hope and promise. As adults, sometimes the myriad of responsibilities, deadlines, and power struggles can get us bogged down causing us to lose sight of the ultimate goal. We need to look to Evergreen's children to inspire and reenergize us. They are, after all, the reason we are all involved in this amazing business of public education.

Thank you.


Brian Wheatley, ETA President
408-272-0601 ext. 215

Dates to Remember
Spring Break - Apr. 18-25
LCAP Community Forum - Apr. 29 (LeyVa @ 6:30 pm)
Sacramento Bus Trip - Apr. 30
EESD Health Fair - May 1 (QO @ 3 pm)
EBoard - May 6 (Mt. Ham @ 3:45 pm)
School Board - May 8 (DO @ 4 pm Budget; 6:30 pm Regular Session)
Rep Council - May 20 (Mt. Ham @ 3:45 pm)
Downloads

2014-15 Adopted Calendar